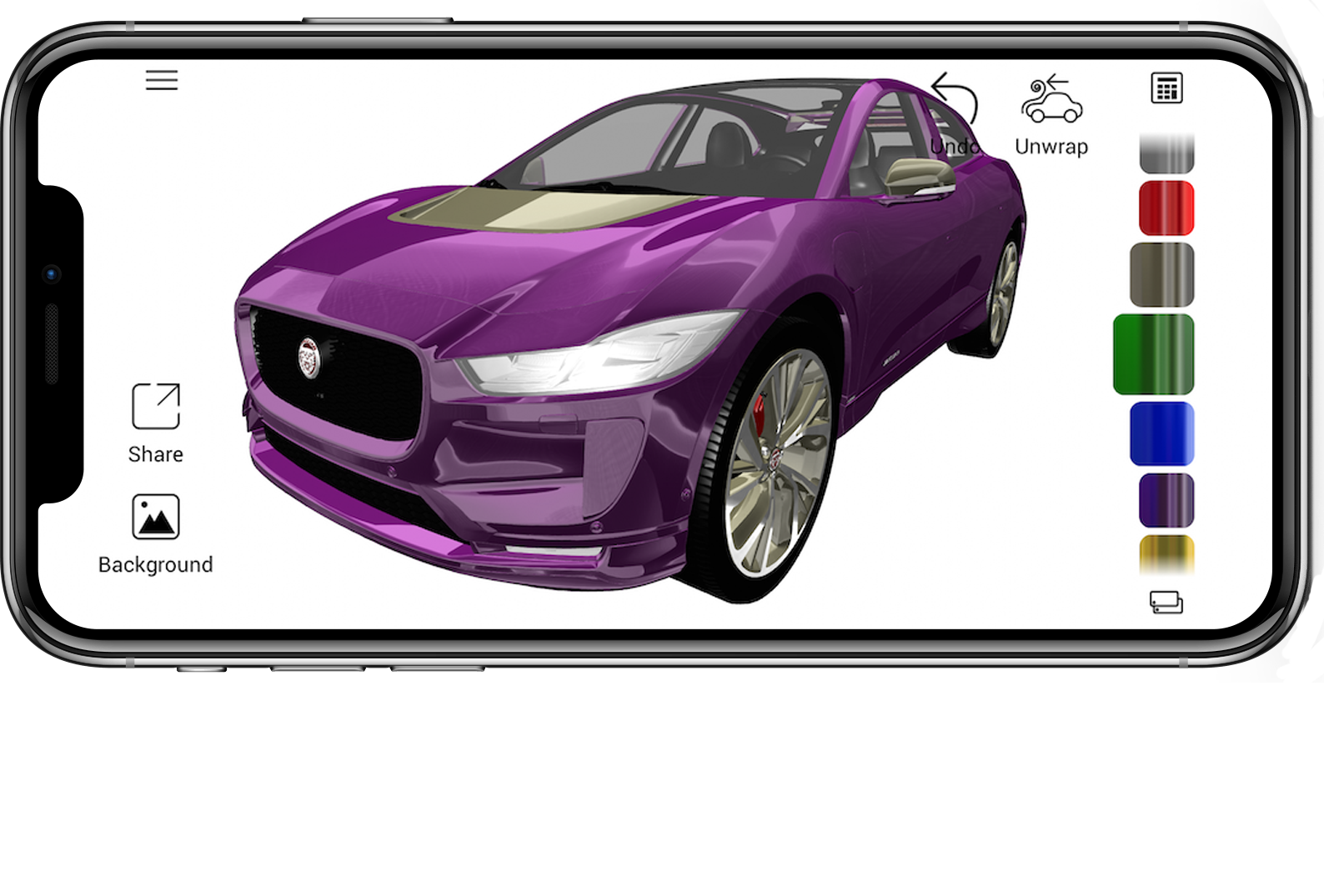 Car wrap simulation app for wrap professionals and car enthusiasts
Car Wrapper 3D mobile application is a professional, as well as end-user wrap simulation tool, with content subject to monthly or yearly subscriptions. Content includes 160+ 3D car models and selectors from all brands. Available for all iOS and Android devices.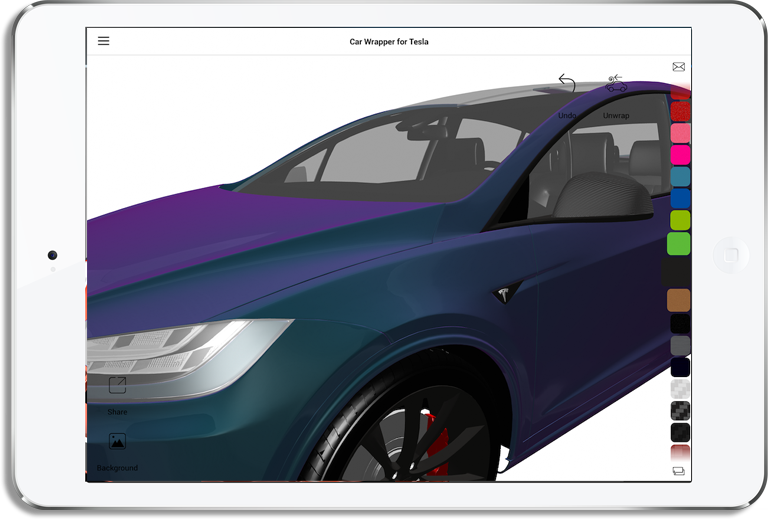 Special app version for Tesla owners and wrappers – more colors for Tesla
Wrap for Tesla 3D Color Change mobile application is an end-user app for car wrap simulation, with all Tesla 3D car Models S 3 X Y and Cybertruck, and free wrap film selectors. Customize colour of your Tesla in 3D & find the closest wrapshop! Available for iPhones and iPads.
FUTURE DEVELOPMENTS PREVIEW
3D Scenes – Wrap Designs – Window Tint

QUICK FACTS
growing every day
CREATE A CAR WRAP PROPOSAL IN A MINUTE
With Car Wrapper it's easy as 1-2-3!
Choose exact car 3D model.


Models from various car manufacturers.

Choose material color and finish.


Real wrap materials from premium brands.

Full or partial wrapping?


Personalize every car body detail.




Or wrap the whole car at once.
CHOOSE. WRAP. SHARE. IMPRESS.
Choose car model
Choose a generic car model – a sports car for example, or chose a specific branded car model. Rotate and zoom the model freely.
The app features vehicle 3D models from many car manufacturers. There is also a set of free generic vehicle car models for the most popular car categories.
We are continuously adding new car models. Let us know at Car Wrapper Facebook page which ones you like.
Use real wrapping media
We transformed the real wrap materials from brands available on the market into the app. Further brands being added on the go.
Choose the desired material finish and color. Matt, gloss, chrome, metallic, pearl, carbon fiber, brushed metal… and many more. Take it to your palette and apply it on the car.
Full or partial wrap
Simply drag the color from the palette to the Full-wrap icon and have the car fully wrapped in a second. You can also personalize every car body part with a different color or effect.
Rotate and zoom the car for real viewing experience.
PRO user features
Have you ever needed to show a customer the expected result, but you were missing the right color sample or you couldn't show the right car? Or the sample you had was too small for her/him to imagine the full effect? Car Wrapper has it all for you to impress. And it can also help you to roughly calculate the material need with chosen reserve, as well as share the material choice by e-mail, or easily turn the e-mail into a quote. Or manage your PRO contacts. More PRO features yet to come.
BENEFITS OF CAR WRAPPING
Colors or surface finishes the car brands might not offer

Car body protection from daily scratches and dents.

Easy to remove without residue, if you feel like change again.

(…and yes, you can take it into a car wash 🙂
For users
Finding the closest wrap shop has never been easier!
Find a wrap shop near you, get contact information to get a quote and driving directions to get wrapped!
Get in touch with professionals in your area, who will turn your CarWrap creation into reality!
For professionals
Reserve your spot on the Car Wrapper Map!
The next question of thousands of Car Wrapper app users is "Where I can have it done and how much it costs?".
Be there, where your future customers are looking for the answer – be on the Car Wrapper Map;)
Created by experienced industry insiders.
Promotive is the premier producer of selectors, color cards, swatch books,brochures and stripes for a wide range of signmaking materials.
15+ years in signmaking industry.
More than 2M selectors/color cards produced.
Delivering to 60+ countries on 4 continents.
Customers are major players in the industry.
DOWNLOAD CAR WRAPPER FOR YOUR DEVICE